Punta del Diablo Uruguay is a small town located in Rocha Department, Route 9 km 298. It's a very important tourist center right besides Uruguay's eastern coast. "Playa de Los Pescadores", the beach located right at the center of the town is full of fishing boats and has a long rock formation hosting the "De Artigas a Bolivar" white monument on top. You can find the craft shops nearby and Rivero Beach, known for its strong waves.
Punta del Diablo Uruguay is an ideal scenery for setting sail and enjoying sports fishing, walking barefoot on its sandy streets, enjoying its beaches, and meeting its friendly inhabitants. Those are just some pleasures you can take part in in this small Eden.
This fishing town, without abandoning its roots, has put its soul into tourism, mixing a good amount of cabins, hotels and camping sites.
Punta del Diablo – Peaceful and Enjoyable Environment
The Craft Fair
One of Punta del Diablo's main attractions is the craft fair, located right at the town's center. You can find so many different options when it comes to enjoying and buying the work of local artists it's almost overwhelming, especially taking into account the town is very small with less than 1000 inhabitants year-round.
Music and Drinks
Musicians from all around start playing music at sunset while tourists relax and enjoy drinks or an amazing dinner cooked with fresh seafood.
The Way of Surf
It's also a surfer's paradise, especially during February and March when the waves are the tallest.
Punta del Diablo's Beaches
Los Pescadores Beach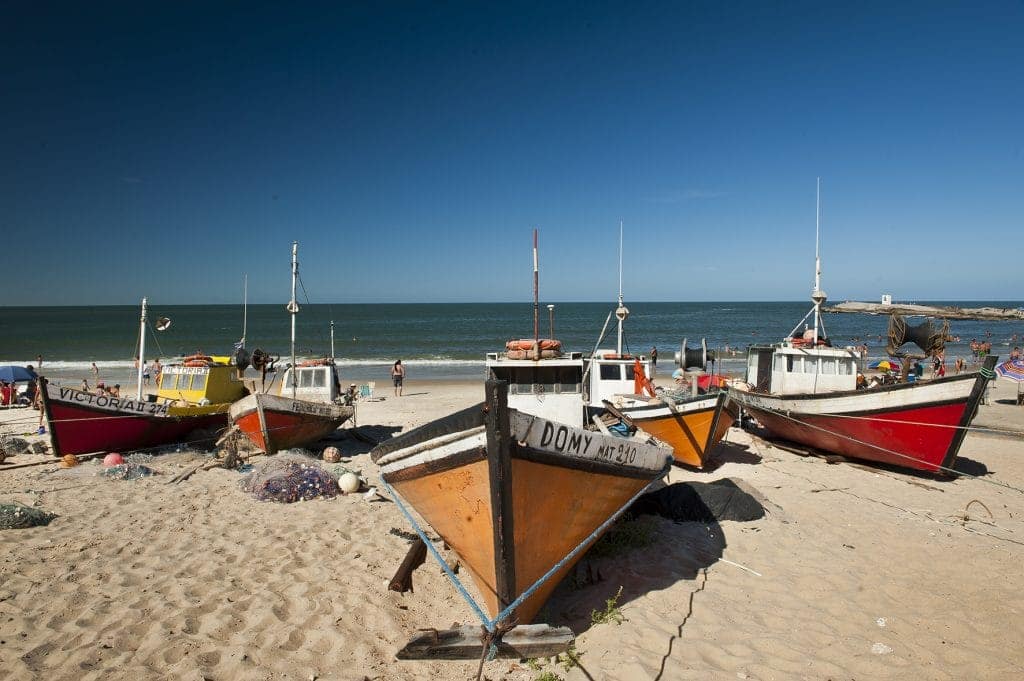 This beach is located right at the town's center and is distinguishable by the colorful boats that rest on its sand most of the day. This is the departure point for fishing boats that start working very early in the morning and arrive at noon, under the watchful eyes of tourists that want to get a glimpse of the day's catch: from big croakers to small crappies.
Calm, clear, and colorful
Its calm and shallow waters are perfect for a quiet beach day with your family. It's also an ideal place to refresh yourself during a hot summer day.
Just a few meters away you can find the craft fair where the craftsmen offer their work based on sea snails and crystals, clothing, souvenirs, and a few imported accessories. Ideal para comer o beber algo y refrescarse después de un día de calor.
Rivero Beach
Just a few blocks away from Los Pescadores Beach you will find Rivero Beach. It's quite small so it can be mistaken by a tiny bay and sets the limit between Punta del Diablo and Santa Teresa. It has nice waves so it's great for surfing, so much so you can find surfing schools during summer.
There are a few bars over there to enjoy a drink while you watch the sunset from over the rocks, a classic way to finish your day in Punta del Diablo
La Viuda Beach
We don't really know who the Widow was, but to the west you'll find this long and big beach, with tall sand dunes and the strongest waves of the whole area.
Here's the spot for surfing tournaments during summer and is usually the teenager's favorite beach.
Its 4.5km length end up with a Lighthouse that can be climbed at certain times of the year.
Grande Beach
If you go past Rivero Beach's rocky landscape you will arrive to Grande Beach, one of the four beaches that actually belongs to Santa Teresa National Park. The beach is amazing and if you're in for exploration, the gigantic national park is a recommended trip either on a bicycle, horse ride, or walking
Traveling to Punta del Diablo Uruguay
Best time of the year to travel
The best time of the year is from December to March because it's summer in Uruguay. You'll find the highest temperatures and less chance of rain, helping you enjoy beach life in this beautiful town
How Many days does it take to go over Punta del Diablo?
It's a small town so you can clear out all the spots we've mentioned in this article in about 2 days. However, its relaxed lifestyle might make you feel like staying a lot more.
Is there an Airport at Punta del Diablo?
The nearest airports are Laguna del Sauce in Punta del Este (95km away) and Carrasco International Airport in Montevideo (180km away). You can take a bus to get here from the airport, there are plenty of options for doing so.
Surf at Punta del Diablo Uruguay
Surf in Del Rivero Beach
You can gracefully receive the swells coming from this spot and hold on to 2 meters waves in good formation. Depending on how tall the sandbanks are and how favorable are the winds, you might actually find some easy waves that everyone can enjoy.
Surf in De la Viuda Beach
Its S-SE orientation and heavy winds produce very strong waves with several peaks across the beach. Wind usually comes from the East, North, and West and the swells will hit you from the South.
---
Conclusion
In summary, Punta del Diablo is a beautiful destination to visit during your next trip. Either you are in Uruguay and want to do a short getaway or plan your next vacation. Its bohemian and relaxed lifestyle, in sync with beach and fishing life, makes it a wonderful setting for resting during the colder months from April to November, and for partying during summer from December to March.
What are you waiting for? Visit Punta del Diablo now!