Uruguay is probably the best destination for your vacations in South America… that you have never heard of. This small country has so much to offer yet so few people around the world know about it
What are the best reasons to visit Uruguay?
Beautiful Beaches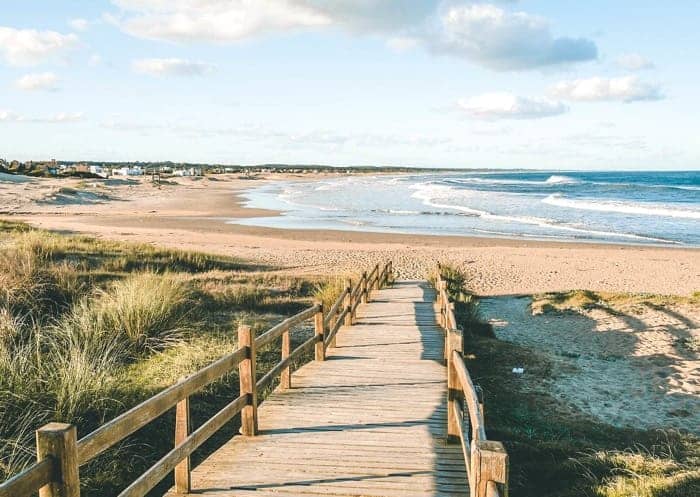 Uruguay is just besides Brazil so basically it shares the same coastline. From beautiful, almost unexplored white and golden sand beaches surrounded by nature and blessed by the Atlantic Ocean in Rocha to luxurious cityscapes such as Punta del Este, Uruguay has it all when it comes to enjoying the sea life in a safe and welcoming environment.
Safety and Security
Uruguay is the safest country in Latin America and according to the 2020 Global Peace Index, Uruguay ranks 35 out of 163 countries when it comes to safety and peace in the country. According to the report, it is only second to Canada across all the American Continent so you can be sure it's a place where you can relax and roam around the streets without worrying about your safety or belongings.
Small town vibes with a modern culture
Uruguay's population is roughly above 3.5 million people with its capital, Montevideo, being the biggest city in the country (around 2 million people live there). As you can imagine, it's very hard to find a crowded place in this beautiful country which means that you can actually smell its small town vibes with a very calm rhythm and hospitality. But let that not fool you, Uruguay is one of the most advanced countries in the world in terms of Human Rights, Equality and LGBTQ support.
Nightlife
Uruguay's nightlife is simply amazing, specially considering the country's size and population. Uruguayans are very nocturnal creature and it shows. Did somebody invite you for dinner? Don't expect that to be before 9pm. Going for a beer or drinks at a PUB? You're set for a 7pm to 6am ride in all major cities. Going to a dance club? Amazing and hope you have good resistance because it's probably a 1am-9am journey where you'll move your body more than you've done in your life.
It's so lively (specially in summer) that you might even find a party happening right at a town square in the middle of the night.
Carnaval
You've probably heard or even went to Rio de Janeiro, the most famous Carnaval in the world. But did you know Uruguay has the longest Carnaval in the world?
Starting mid-January and going as far as mid-March, Montevideo's Carnaval happens every night at different venues with the uniqueness of the Uruguayan Carnaval, a mixture of dancing, parody, social criticism and heart-touching moments where instead of Rio's Samba you get Murga and Candombe.
The countryside
Uruguay has some of the most beautiful countryside you can visit in Latin America. Soft, pollution-free horizons populated by endless grass fields, tourist ranches where you can live the whole experience full of horse rides, bread, meat, wine, and towns where people don't even lock the door when they are not at home. You've probably never been to a more peaceful place than this.
Road trips
Uruguay is a small country with very soft geography so you can basically get anywhere by car. Rent a car and you can ride the longest distance (Montevideo to Artigas) in less than 9 hours, go from the beautiful and wild beaches of Rocha in the East to Colonia's historical neighborhood in the West in about 6 hours… you get what I mean.
Ancient and high-energy places
Uruguay is located in one of the oldest places on Earth. That means it's been above sea level for quite a few millions of years and thus it's full of high energy places. Those looking for spiritual growth usually come here and visit places like Villa Serrana, Valle del Lunarejo, Piriapolis, Salto, etc. in search for those soul nutrients that can be found in few spots in the world. The land is also full of amethysts and other energetic crystals which serve as a catalyst for meditations in the beautiful, unpopulated landscapes that can be found all across the country.
Football
Uruguay is the first FIFA World Cup Champion in history. The country lives and breathes this sport and has given birth to some of the greatest players of all time, old and new. Cetenario Stadium is considered the Monument to Football by FIFA and also holds the Football History Museum, an extensive collection of memories since ancient times to these days.
History and Mystery
Uruguay's history goes back just a bit more than 300 years but in such a short period of time has amassed a very rich history from the colonial era of wars and anarchy to being the "Switzerland of America", you can find very good tales across any corner of the major cities.
Uruguay has also been (and still is) homeland of modern Mystics and Alchemists such as Francisco Piria and Humberto Pitamiglio. Their trail goes on more than a century and it's easy to find traces of their magic, amongst others. Visiting their castles and monuments to infuse yourself in the mystery of the ages, or visit cementeries at night for a darker, yet powerful experience.
Uruguay is also one of the biggest producers of Amethyst and Quartz Crystals in the World, among many other energy crystals and stones. Amethysts have a known list of properties that go from healing to transmuting lingering energies and enabling deeper connections with the universe, whereas Quartz Crystals are also known for helping align and power your higher chakras, so it's an excellent opportunity for you to take some of these beautiful and powerful stones home.
More about Uruguay
Where is Uruguay?
Uruguay is located in South America and limiting with Brazil (to the North), Argentina (to the West), and with coasts to the Atlantic Ocean.
What is the Capital of Uruguay?
Montevideo city is the Capital of Uruguay. The City has a population of about 2 million people and is the biggest city in the country. It's one of the oldest cities in this part of South America and started as a Fortress-City built by the Spanish Empire during the Colonial era in the 18th Century. As such you can admire the contrasts between the remains of that first establishment and the modern buildings that take place in neuralgic growth points. If you're looking to travel to Uruguay, we have you covered with a curated list of the best hotels in Montevideo, so make sure you check it out!
What time is it in Uruguay?
Because of its location respective to the Greenwich meridian, Uruguay is in the GMT-3 timezone. That is 3 hours behind London, 1 hour ahead of New York, and between 4 and 5 hours from Los Angeles (depending if Daylight Savings Time is on in California). Uruguay does not use Daylight Savings Time so it always remains as GMT-3
What language is spoken in Uruguay?
The official language of Uruguay is Spanish, though it's very common for people in the bigger cities and hotels to also speak English and Portuguese.
What is the population of Uruguay?
Uruguay has a population of 3.6 million people according to the latest official count. It is composed mainly of descendants of European immigrants that arrived at any point between the 18th century and the 1960's. In recent years the country has seen a big influx of immigration from Venezuela, Cuba, and Argentina, mostly due to the harsh conditions that are being lived in those countries.
What Currency is used in Uruguay?
The native currency in Uruguay is the Uruguayan Peso (UYU code), but United States Dollar (USD) is also widely accepted across the country.
What is the weather like in Uruguay?
Because of its location, Uruguay is considered a mild-weather country, having all four seasons well delimited and with its specific variations. Summer starts on December 21st and goes until March 20th, with an average temperature of 26C (78,8F); Autumn starts on March 21st and goes until June 20th and the temperature can vary drastically from beginning to end, going from warm days in March and April to cold (10C or 50F) in June; Winter happens between June 21st and September 20th, with an average temperature of 7C (44,6F), experiencing the most rains during this timeframe; last, Spring happens from September 21st to December 20th and the temperature starts rising towards the end, opposite to Autumn. Spring is also a rainy season.
What is the best season to travel to Uruguay?
Uruguay has more than 600 Km of beaches that can be best leveraged during Summer. January is considered as highest Season for beach tourism though you get warm days even starting November and until April, so there are plenty of opportunities to enjoy places like Punta del Este or Rocha.
During Spring and Autumn, you can enjoy the countryside, which offers you amazing views, lonely settings, and spectacular green fields, all while enjoying a very enjoyable temperature and mostly nice weather.
Winter is the best time to visit and enjoy Uruguay's cuisine in Montevideo, Colonia, or Punta del Este. It's also a great opportunity to go to the hot springs in Salto or Paysandu, so there are many activities for you to enjoy Uruguay during the coldest season
Conclusion
Overall, Uruguay is a beautiful and varied country despite being so small. It has it all, from beaches to hot springs, from green meadows to rocky mounts. The safety and security, like no other in South America, plus its genuinely gentle population makes it a great destination for your next trip.
And that's it for our list! If you liked it, please share it with others in your social networks!